Product Code :
Product Name :
Magnetic Yoke MP-A1
Details :
Handy Magna MP-A1 Magnetic Yoke
Magnetic Yoke
MP-A1 products use testing method by utilizing the Yoke Method, to magnetize with some or all of test flaws placed between magnet electrodes and detect flaw of the object to be tested by inducting partial linear magnetic field to the test piece. This method enables to easily and rapidly detect surface flaw of forged products or welding, part, etc.
HANDY MAGNA MP-A1
As an ultra compact type and ultra light-weight equipment with weight of the main body of 2.1, this product can obtain maximum of efficiency when a worker uses this product for a long time, and this product is receiving good response from customers.
To achieve the best inspection efficiency with small, light equipment

To form a strong magnetic field with a AC type

To apply dry, wet and fluorescent magnetic particles

Excellent durability by using a molding type of rubber material with strong water-proof, shock resistance

To perform perfect inspection any place such as laboratory,

production plant, assembly parts and welding part.
Standard Configuration :
Handy Magna 1set

Power Cable 1ea

Carrying Case 1ea

45 Deg Pole 1pair (option)

Universal Pole 1pair (oprtion)

Manual

Certification
Specifications :
Power Supply : AC 220V/50/60Hz
Related Current : 2.0 amp
Distance Between Magnetic Core Center : 130.m
Lifting Power : 5.44kg over
Magnetic Current : AC only
Power Cable Length : 4m
Weight : 2.1kg (including pole) 1.8kg (Pole 0.15x2=0.3) = 2.1kg
Dimensions : 187(L) x 165(H) x 40(W)mm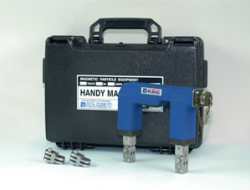 Brochure :